24-Hour K'iche' Translation Assistance
The team of K'iche' translators at CIT are available 24-hours for private, or government interpreting of indigenous Guatemalan languages. We can translate K'iche', Q'anjob'al (Qatzijob'al), to Zapotec.
K'iche' To English Translation Services
CIT provides K'iche' translation for various immigration documents or educational materials. K'iche's grammar is challenging. K'iche' is neither as complex nor traditional, still, its grammar has some unique features that make the K'iche' different from other Indo-European languages such as English and Spanish. CIT makes sure that the translation we provide is pedagogically adequate and linguistically accurate.
Birth
Certificate
K'iche' to English
FREE QUOTE
Marriage Certificate
K'iche' to English
FREE QUOTE
CERTIFIED
DOCUMENTS
Certified Official
FREE QUOTE
IMMIGRATION
FILINGS
USCIS compliant
FREE QUOTE
K'iche' To English Interpreting
In consideration of short notice and emergency requests, CIT is available 24 hours a day for US immigration court interpreting and to US border agents in need of bridging communication between K'iche' migrants and US border officials.
The K'iche' people originally come from Altiplano region in Guatemala, which is an area that primarily has highland pastures used by the K'iche's for agriculture and shepherding.
However, deforestation has caused many natural resources to diminish, resulting in the K'iche' people being pushed to find ways to make a living. K'iche' Mayans migrate to America to escape a history of massacre and economic hardship. When they cross the US border from Mexico into Arizona require translators because of language barriers.
K'iche' people mainly speak K'iche', which is part of the Mayan language family. Unfortunately, K'iche' interpreters or translators are scarce when they come into contact with American officials. Without a translator, migrants are often deported when they reach an immigration court.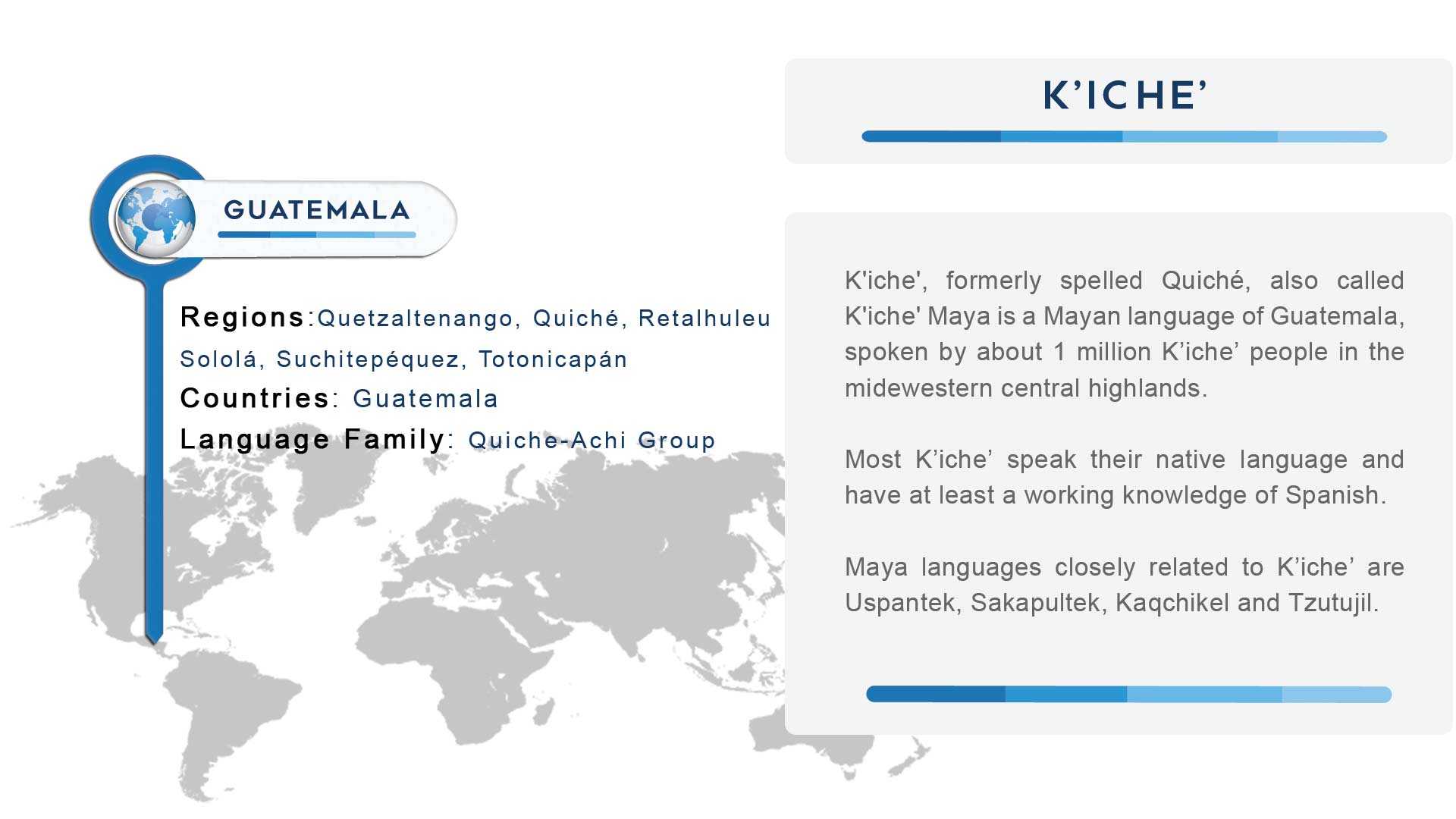 K'iche' is separated into five geographic dialects represented by their respective municipalities. Our background in these Mayan language families means our translator's bridge communication more clearly by recognizing ethnic markers through dialectal differences.
EASTERN
CENTRAL
WESTERN
NORTHERN
SOUTH | COASTAL
EASTERN
Cubulco
Joyabaj
Rabinal
San Miguel Chicaj
Zacualpa
CENTRAL
WESTERN
NORTHERN
SOUTH | COASTAL
K'iche' Language Background
K'iche' has been spoken in the central highlands of Guatemala since the Sixteenth Century. When the Spanish invaders arrived in 1523, K'iche' was a language spoken by the ruling lineages of an ancient confederacy that had been extremely powerful for many years.
K'iche' Speaking Guatemalans
Most K'iche' speak their native language and know how to speak Spanish. There are some exceptions in rural communities, where the people only speak K'iche. Maya languages that are closely related to K'iche are Uspantek, Sakapultek, Kaqchikel, and Tzutujil.