Secretary Mayorkas Designated Haiti Protected Status In May of 2021
It appears the one million Haitians now living in the U.S. are about to jump as much as 10 percent within a few month's time. While making the rounds on Sunday September 26 Network News Magazine Broadcasts, U.S. Secretary of State
Mayorkas
announced more waves of Haitian immigrants are coming to America. He clarified there are twenty-thousand (20,000) more Haitian refugees expected to arrive at the U.S. border to immigrate into America. This news comes as a surprise to some but to others, the news is expected due to his
May decision to designate Haiti protected status
. Ex-pat Haitians living across South America have packed up and are heading to North America in what may be the largest human caravan in history.
Biden Giveth | Biden Taketh Away
The matter is confused by President Biden's back-and-forth policy changes that may only be smoke-and-mirrors to confuse political opponents. During the first wave of almost twenty-two thousand (22,000), Haitians stuck under the International highway along the Texas & Mexico, Del Rio border town the Biden administration effectively used the press to announce mass deportations using former President Trump's policies while bussing over seventeen-thousand (17,000) of the thirty-thousand (30,000) Haitian immigrants around the U.S. without any vetting other than deporting a small percentage of single men.
Mayorka's instructions and the decision to selectively deport single men was made with no regard to the Supreme court ruling over three weeks ago instructing the Biden administration to revert to the prior administration's lawful remain-in-Mexico policy. Secretary Mayorkas was asked directly, Why has the Biden administration failed to comply with the Supreme Court's ruling to revert to the Trump administration's remain in Mexico policy? Mayorkas' response can only be explained as non-sensical as he answered, the Supreme Court's decision is affected by a lower court's decision.
This explains why the number of deportations to the number of entrants of Haitians released into the United States didn't hold up to scrutiny as less than 10 percent were flown back to Haiti. The news of thousands of Haitians being admitted to the U.S. by the Biden administration quickly made its way back to the nearly one-hundred thousand Haitians living across South America. They have acted on this news immediately and news of a caravan in Central America has in turn made it back to the Biden administration.
Biden may say he taketh away, in truth immigrants are free to enter the U.S. illegally with assistance from the Biden administration.
The Root Cause of Haitian Immigration
Coining words expressed by Vice President Kamala Harris, what is the root cause of Haitian's coming to America? The answer isn't a simple search for better life. It first began due to political unrest in Haiti that forced Haitians to immigrate throughout South America and relocate to Chili, Bolivia, Brazil, Venezuela, and upwards to Guatemala in Central America.
These countries have not been welcoming as Haitians are highly discriminated against despite being civil tax-paying citizens. The result has been a mass exodus of Haitians leaving countries such as Chile with as much as 60 percent leaving since 2018.
Mistreatment has lead Haitians to seek asylum in countries like Mexico and Canada, however, they are having trouble with gaining entry into these countries without a Haitian passport or proof that their families live outside of Haiti. This problem is compounded by a language barrier. This has lead to Haitian immigrants traveling through Latin American countries from as far south as Peru and Chile to reach the US. 
Most travel north is traditional as Haitians head towards Central America. It is then family, friends, Facebook and WhatsApp provide written instructions in Haitian Creole through the Darién Gap's lawless wilderness.
The Darién Gap has a long history of everything deadly, from deadly terrain, deadly scorpions and snakes, to remnants of FARC guerrillas. It's widely reported in travel blogs any form of land travel across the Darién Gap is perilous and can result in extortion to kidnapping and death.
If refugees safely make it through those 60 miles over six to ten days through some of the world's thickest jungle connecting Colombia and Panama, they prepare for their next difficult leg. Haitians attempt to travel in larger, safer numbers, collecting in local shops where narco-mules also ply their trade.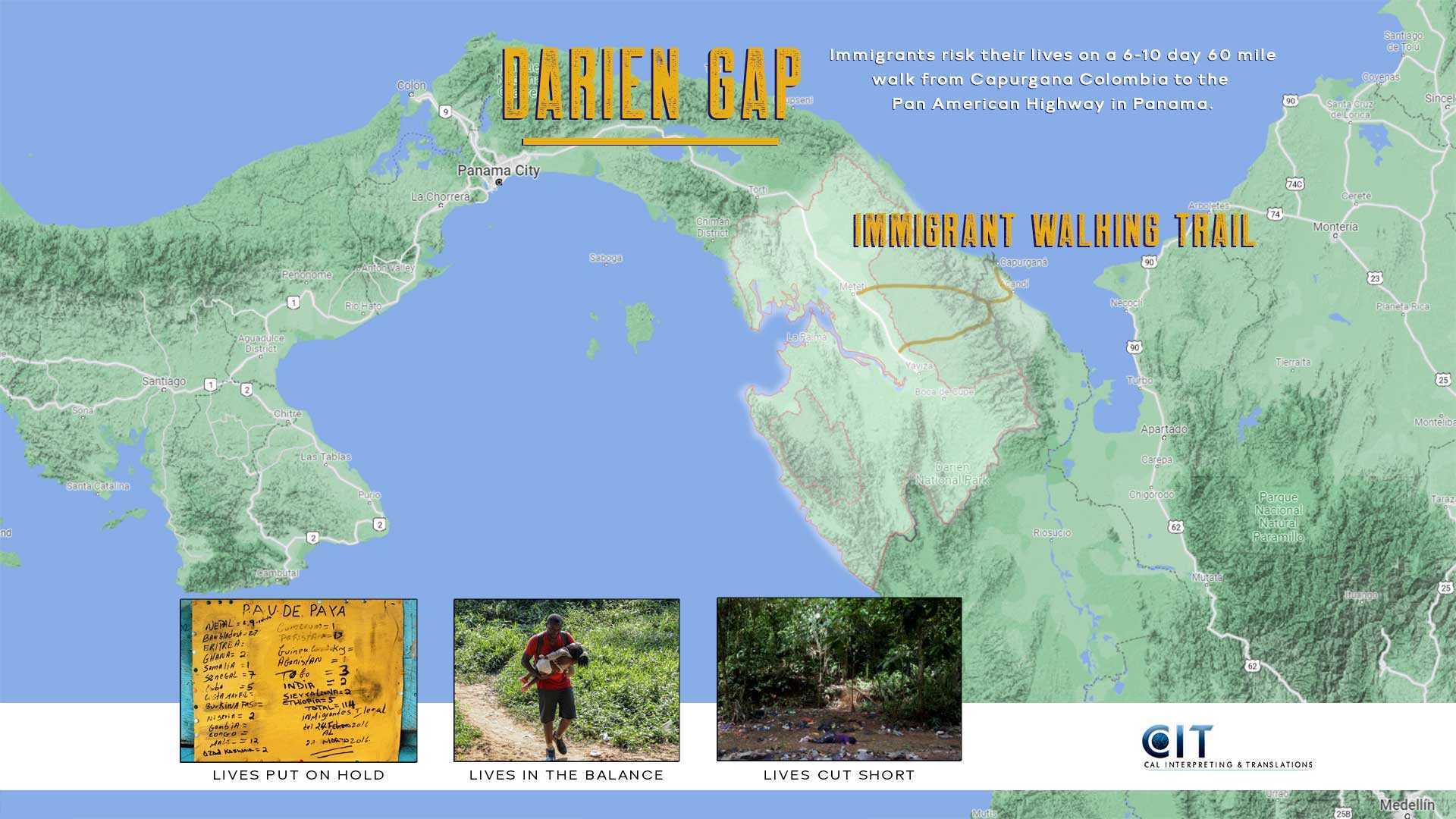 Upon reaching Mexico, immigrant travelers once again turn to reliable sources and the Internet. Haitians are advised on who to avoid, who to trust, and last-minute alternatives to blocked movement. When Del Rio Texas and Acuna became unsafe, Haitians headed to Tijana Mexico. One thing is certain, they all believe returning to Haiti is not an option.  "Returning to Haiti is to bury a person alive." Says Nelson Saintil, a husband and father of four.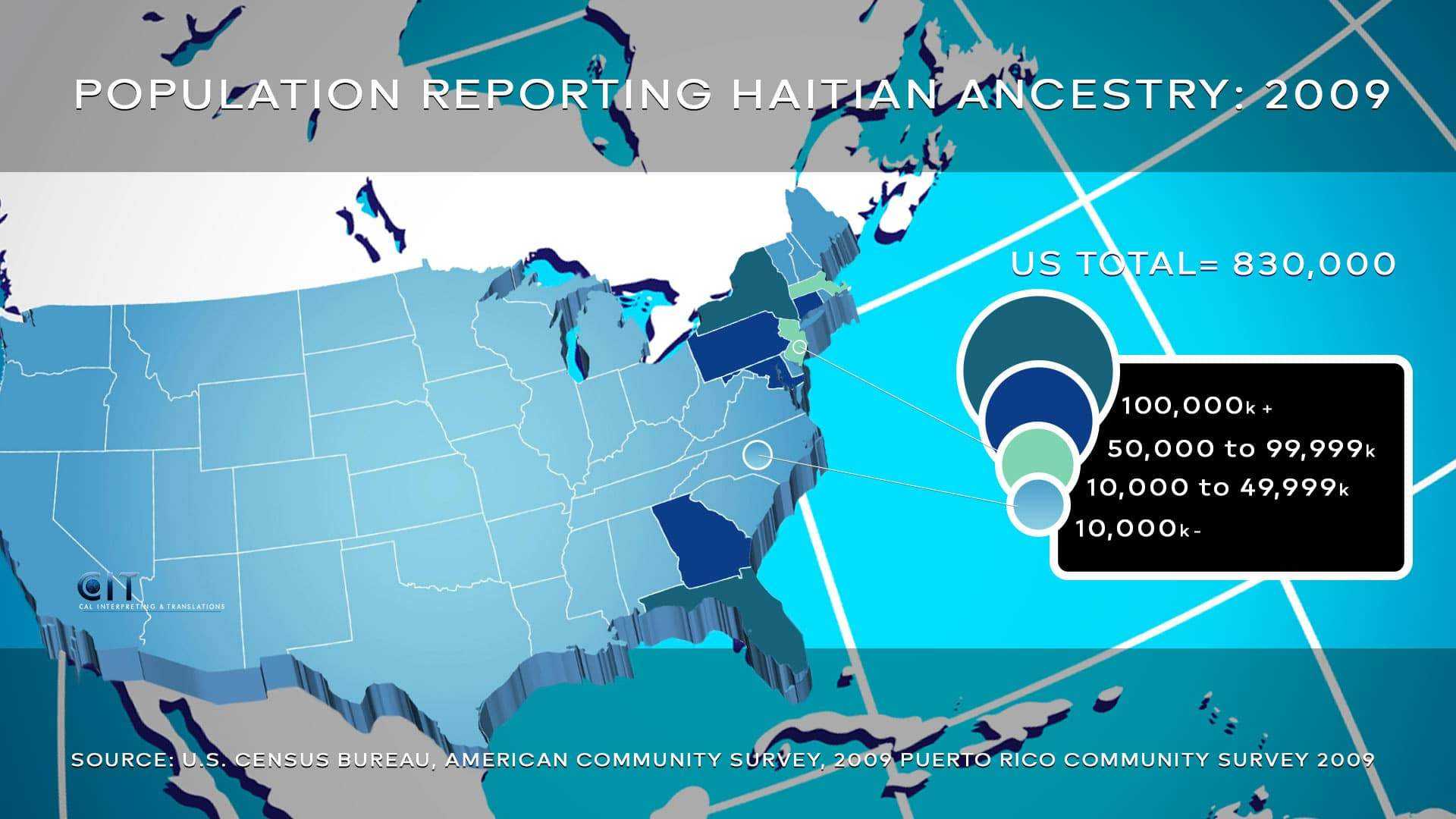 With 85 percent of all Haitians who live outside of Haiti living in the United States, most Haitians are finding sanctuary in Florida as one of the largest population centers and proximity to Haiti for those who can and do return to Haiti. Since the 2009 census, Florida has achieved the third-largest Haitian population in the US.
Haitian immigrants have been moving to Miami, Orlando, and Tampa due to their high Haitian populations. In Miami Dade County, Creole is spoken by over 400,000 people.
New York also has in excess of one hundred thousand (100,000) Haitians, followed by Georgia, Maryland, Pennsylvania, and Connecticut. In New York City, creole speakers are found in Staten Island and Brooklyn.
Both Massachusetts and New Jersey have more than ten thousand (10,000) Haitians rounding out the top states with Haitians living in America.
The Haitian Creole Language Barrier
U.S. government interpreters can assist Haitian immigrants who only speak Haitian Creole and French Creole but what do they do once they enter the U.S. interior?
Under normal circumstances when Haitian immigrants arrive at American borders without speaking English they face the risk of being detained and deported back to Haiti under suspicion of illegal entry into the United States.
With an officially recognized translator there during their interactions with law enforcement, Haitian immigrants stand a better chance of being able to communicate more freely about where they were coming from, why they were coming into America, and if they had any prior arrests or convictions that could affect their immigration status in the U.S.
Having a designated Haitian Creole speaker on hand would allow Haitian immigrants to move freely about their lives in the United States without fear of being seized and having their immigration status altered by misunderstandings.
The best solution for Haitian Creole-speaking immigrants is to seek interpreting and translating services once they reach American borders. 
Some Haitians plan in advance contacting U.S.-based interpreting and translation services to work with finding legal counsel as immigrants seeking asylum in the United States. This ability to communicate with American citizens opens doors to safe passage, inexpensive travel, government assistance, and job opportunities.
Few realize the simple step of connecting with an interpreter early can help explain information between two parties where there's a language barrier, thus improving communication between Haitians and English-speaking Americans who do not speak Haitian Creole. 
SOURCES: Wall Street Journal. The Japan Times. US Census.